Synesis Presented New Cluster Server Solution That Is Three Times More Powerful Than Previous Models
2014-11-10 15:54:07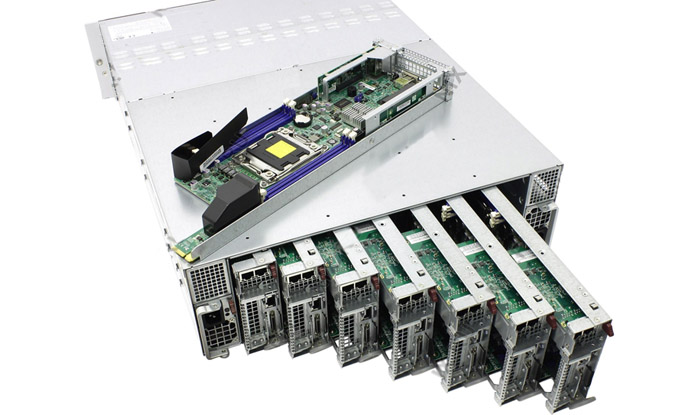 Synesis company presented their new development - cluster server for video analytics Kipod Cluster, which is a scalable hardware-software solution for corporate-tier intelligent video surveillance systems. The new solution is able to detect, classify, identify and follow various objects captured by cameras - people and vehicles.
Kipod Cluster analytics module automatically recognizes possible emergency situations (crowding, antisocial behavior, fire) and conducts intelligent archive search with a broad set of parameters: types of objects, events, time intervals and other settings.
Nikolai Ptitsyn, CEO of Synesis, provided additional commentary on the new development for RUBEZH magazine.
Extremely high channel density is the main competitive advantage of Kipod Cluster. 3U-sized server can process 480 HD channels. This is about three times more than in the previous solutions. Moreover, the system is very fault tolerant as it uses blade server architecture with automatic load balancing, which allows redistributing the load of a malfunctioning server unit between others. Special micro-module architecture isolates the processing of each individual surveillance camera from the others. Thus, if a camera transfers corrupted signal or its software stops working, it will not affect the processing of data from other cameras.
The system is fully web-oriented, which means that it can be used with any operating system (Mac, Windows, Linux), with no requirement for software installation. The entire cluster, which may include hundreds of computers, is administered centrally through a single interface, a single logical server - this eliminates the necessity of administering each server individually.
Another advantage of the new product is a highly convenient architecture, which makes it very easy to integrate the video analytics cluster server to a "Safe City" portal, since all resources have their unique addresses (hyperlinks), which can be used to access cameras, reports or events. Thus, the architecture allows to seamlessly connect the new cluster server to a web portal and make it a viable tool of security services, members of city government, different city public services, maintenance services - greatly expanding the range of users. Finally, the server uses open-source software (operating system and database). The introduction of such system is cheaper, since companies do not need to buy licenses for commercial versions of programs.
Video analytics server Kipod Cluster is designed primarily for facilities that use a large number of channels, since a single server handles nearly 500 cameras. Safe City systems, major transportation facilities such as Moscow Metro, large factories, large facilities of strategic infrastructure will find the functionality of the new server solution highly efficient.
The solution has been demonstrated to a number of operators, including Moscow City Telephone Network and Moscow Region Government and received positive evaluation. Currently, the possibility of deploying the development in "Skolkovo" is under consideration.
Источник: RUBEZH